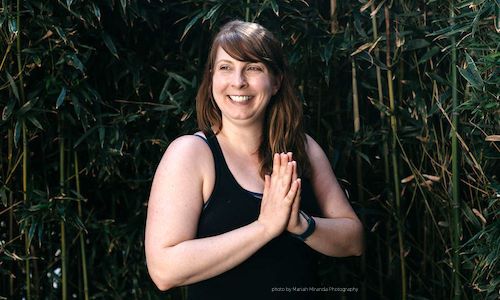 MS, Yoga Therapy
(301) 565-4239
aphelan@crossingshealing.com
As a yoga therapist with an MS in Yoga Therapy from Maryland University of Integrative Health, I can guide you through techniques from the yoga tradition that empower you to meet your healing and well-being goals. Our work together might include breath, poses, meditation, guided relaxation, and/or inquiry into behavior and thought patterns. A typical session has some combination of techniques custom-designed to access mechanisms for healing that we all have, but are sometimes difficult to access.
A growing body of research on yoga has shown that it has the potential to reduce symptoms and improve quality of life for those suffering from many conditions including, but not limited to, long-haul Covid-19, chronic fatigue, pain conditions, anxiety, depression, cancer and chronic stress.
My work is grounded in the panchamaya kosha model derived from the diverse Indian lineages of yoga and paired with research-based evidence on physiology, neuroscience and our biological, psychological, social and spiritual capacities for change. You do not need to be fit, flexible, calm or wearing spandex to experience the benefits of yoga therapy, all you need to be is just as you are right now.